So far, the Fortnite Season 7 leaks have been correct in terms of weaponry, new POIs, NPCs, and other in-game stuff, but there is still a lot to learn. Now, a fresh series of leaks has surfaced, and although they aren't very important in their own right. They will become more crucial as the game continues.
The most interesting rumour is that Epic Games is going to issue a fix for the 17.21 version of the game. Patches are typically released every two weeks by the developers. But, according to leakers, there is a legitimate reason why a patch may be released sooner than anticipated.
Which has once again stoked speculation of a particular individual appearing in Fortnite: Battle Royale. According to Fortnite leakers, Dwayne Johnson may be making a cameo appearance in the game shortly.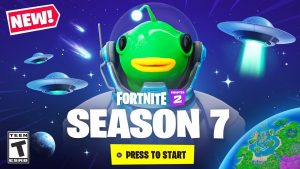 Despite the fact that these allegations have been rejected in the past, It is important to remember that "The Rock" was referenced in leaked court papers. But fresh evidence indicates that Dwayne Johnson may be receiving his own skin.
Dwayne Johnson in Fortnite
It was revealed that a guy with the striking resemblance to Dwayne Johnson. This may be seen dancing to the beat of his own heart in the Cosmic Su party teaser. While it's important to take everything with a grain of salt. It's conceivable that the cooperation may take place this season.
In the next Fortnite Season 7 leaks. In light of the fact that alien parasites are on the island. It is conceivable that as the season continues, some points of interest (POIs) may become overwhelmed by the alien presence.
Other Updates on Fortnite
Epic Games has already begun the process of deleting some non-player characters (NPCs) from the game and replacing them with Kymeras in disguise. In light of this, it is possible to conclude that the extraterrestrial presence on the island is already increasing.
The possibility exists that Holly Hedges will not be the only alien hotspot in Fortnite if this leak proves out to be accurate, according to the source.
Everything about the fact that the developers are planning to issue a 17.21 patch after the release of the 17.20 version shows that something is going to take place.
Some gamers are under the idea that Epic Games' staff will be taking a brief summer vacation from their jobs. On the other hand, with Epic Games, nothing is certain. And the creators may simply surprise gamers with something fresh and interesting in the future.
Read More :- Pro 100 Fortnite Creative Challenge