Fortnite is a world-famous game with more than 80.4 million active users playing daily.
These multiplayer battle royal games provide its players the compatibility to customize the skins and outfits.  This makes it easier and comfortable for the players to personalize the Avatar and enjoy the game to the next level.
Recently, Fortnite has a new wrap skin update Fortnite which provides an amazing look to the Avatar. 
Note: If you have skin in Fortnite then this doesn't mean that you are going to have some special abilities. It will not affect the gameplay. It will just make your Avatar look more personal and attractive.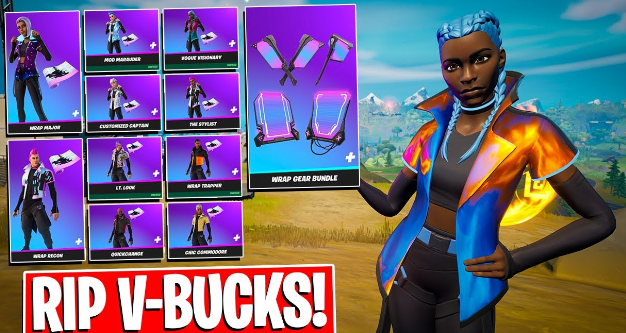 What The New Wrap Skin Looks Like You Are Going to See in the Game?
Fortnite wrap skin is a customizable cosmetic item that you can use to change the weapon's skin and the character Avatar itself also.
To be honest, wrap skin comes in a lot of different textures and so many different colors and designs that create a really cool scene to customize our weapons.
You can buy this wrap skin in Fortnite and we will discuss it in the next heading.
How to Buy the New Wrap Skin in Fortnite?
You will need the V-bucks ( the game currency of Fortnite). The first thing you should do is to go to the Fortnite game store and use the wrap skin.
You can find a lot of free skin available in store but the best thing about the wrap skin is that they are fully customizable. 
It depends on us whether we want to customize it fully or leave it as it is.
Each skin is around 1500 V-Bucks, you can directly buy it from the Item Shop option and apply it to your character.
However, I will repeat that adding skin will not change the gaming experience nor will it give your character a special ability.
But it will make your avatar look flashier as it should be.
I will definitely suggest you go and check out the new wrap skin update in Fortnite.